| | |
| --- | --- |
| LITTLE BIT OF EVERYTHING | ​KEEP TRYING |
Minecraft is a game where you have to demolish and construct. There are millions of realistic features to the game that's why the game so exciting. Two of the realistic features are that there are hearts to tell if you take damage and hunger bars to tell if you are hungry or not. In the night mobs spawn and try to kill you but you have to kill it before reaches you so again it's realistic. You can make tools and swords to kill the creatures. There are hundred types of blocks for you to enjoy. There are 2 main points in the game: creativity and survival. When you begin a survival game you will usually see natural resources. There are really cool mods attached with the game and an example of one is when you place something on the ground and it makes a building such as a house, fountains, pools, stables, churches, and other structures. This game is used by architects to figure out how does the person wants to make the structure. These are time saving apps to help all sorts of people. The game doesn't even need Wi-Fi to play! The game makes you motivated to build, craft, and more.

what you might learn
These are a few things you might learn while reading: You will learn to make tools, A furnace, great ways to get food, Learn about experience, All the things you need in a house, And every single block in the game. All of that comes in the second page itself. In the third page you will learn 4 methods of planting, All the ores, Farming, Enchanting, Intergalactic alphabet, and mining. If I say so myself I think that is a lot. For the fourth page you will learn about circuits, How to make the nether portal, How to go in, All the mobs there are, How to get to the end.

When you look into the section more you will see stuff like houses, Facts, Mods, How to install mods, and surveys. When you go to houses you will only see videos because I thought you guys would have a hard time of understanding my writing. When you go on the very bottom of houses there will be a few videos of basic circuits in Minecraft. In surveys I will just ask you a few questions of what you think of this website. When you are on the page "how to install mod's you will only see a Video and no writing because I know it is very hard to explain in words.

Powered by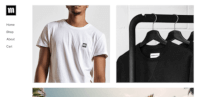 Create your own unique website with customizable templates.